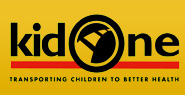 FILL A TANK
"To keep a lamp burning, we must keep putting oil in it" ~ Mother Theresa
Rising gas prices have increased Kid One's gas expenses enormously.
The vehicles travel   thousands of miles each week with a projected fuel budget for 2011 of over $125,000. This makes it even more difficult for Kid One to continue to meet existing needs while, at  the same time, prohibit us from being able to reach the thousands of other children in need.
As you know, the economic realities of today pose a tremendous challenge for all nonprofits, particularly community-based social service organizations such as Kid One. Unfortunately, transportation to health care services has become an even larger issue in these difficult economic times as more and more families feel the impact of job losses, housing foreclosures, and other devastating events.
The demand for our service has steadily increased this past year – the number of transports we have conducted is up 20% but the number of children and expectant mothers we cannot serve is up 60%.
Your special gift to Kid One today will help us continue to meet our very special mission, connecting children and expectant mothers with needed medical care.