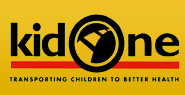 Kid One provides transportation for children and expectant mothers to a variety of health care services, including preventive care, behavioral counseling, high-risk prenatal care, and pediatric dialysis, just to name a few. As a result, we collaborate with over 700 health care organizations, community service agencies, physicians, government agencies, and nonprofits throughout Alabama in order to meet the needs of the children and families we serve. Below is a sampling of the organizations and agencies with which we collaborate.
All County Department of Health Centers in 35 County Area
Alabama Department of Human Resources
Cahaba Valley Health Care
Hispanic Interest Coalition of Alabama
Vital Smiles
Easter Seals Alabama
Baptist Health System
All About Kids (Montgomery)
UAB Health System (including Kirklin Clinic, Obstetrical Complications Clinic, UAB Callahan Eye Hospital Clinics and Medical West)
Children's of Alabama (including Children's Hospital, Children's Harbor, and Children's South)
Whatley Health Services, Inc.
DCH Health System
Sight Savers America (formerly Sight Savers of Alabama)
City of Birmingham Division of Youth Services
Helping Montgomery Families Initiative (Montgomery County District Attorney's Office)
St. Vincent's Health System
An exclusive franchise player tag means the club has full negotiating rights with that player and the player can't talk with
Authenitc Blue Zemgus Girgensons Jersey
another club. The team must offer a player a 20 percent increase
Elite Evander Kane Jersey
Authenitc Zemgus
Elite Gold Zemgus Girgensons Jersey
Girgensons Jersey
over his
Kid Pierre Turgeon Jersey
previous year's salary, an equal to or greater
Authenitc Gold Matt Moulson Jersey
salary than the average of the five highest paid players at that player's position at the conclusion of the restricted free agent signing period (April 15) or an equal to or greater salary than the average of
Authenitc
Elite Blue Derek Roy Jersey
Ryan Oreilly Jersey
the five highest paid players at that players position the previous year, whichever total is greatest. Non exclusive franchise players may listen to offers from other teams, but the player's original team has the right to match
Kid Pierre Turgeon Jersey
any offer. If the
Elite Blue Tyler Ennis Jersey
original team allows a non exclusive free agent to sign elsewhere, it gets two first round draft choices as
Elite Zemgus Girgensons Jersey
compensation. The conditions for designating this tag are the same as
Authenitc Gold Ryan Oreilly Jersey
designating an exclusive franchise player, except the team does not have to match the average salary
Authenitc Blue Zemgus Girgensons Jersey
of the top five position
Men Tyler Ennis Jersey />
When a team builds a running attack, it can do so with a variety of types of backs. A running back can use his strength and bulk to overpower the defense. A running back can use his
Kid Pierre Turgeon Jersey
speed and quickness to make big plays and key yards. A coach might favor one style over the other and choose running backs that fit that style or he might want a
Kid Pierre Turgeon Jersey
roster with backs to cover various situations. Power Back A power back is a back that uses his size and strength to run
Elite Gold Derek Roy Jersey
between the tackles and make crucial yards. A power back will almost always run between the tackles and is considered a "north south" runner. Coaches
Authenitc Gold Pierre Turgeon Jersey
don usually expect power backs to have long runs, but they are valuable on third downs when a team needs 3 yards or less for a first down. A power back uses his strength to punish tacklers and push them backward. When a team uses a power back
Women Derek Roy Jersey
early in the game, his punishing style can weaken the defense in the second half and allow the offense to eat up the clock and gain important yards. Some all purpose backs can touch the ball on 60 percent to 70 percent of the offensive snaps in a game. All purpose backs are extremely valuable and rare because they have so many skills and can help their team in so many ways. It all starts with running the football, but they can be just as valuable in any of the other areas. Hall of Famer Walter Payton was an all purpose back who many
Kid Matt Moulson Jersey
consider to be the best ever at his position. They also help protect the quarterback when he drops back to pass. Blocking backs are among the biggest and toughest players in the sport. They must use their physical strength to dominate the opponent. They can carry the ball on occasion but their main job is to block. Some of the top blocking backs include Jim Taylor, Tom Rathman, Bronko Nagurski and John Henry Johnson.